Welcome to Holy Trinity Lutheran Church!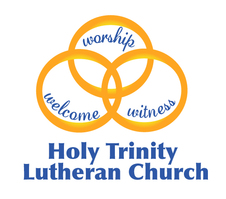 ---
Worship Opportunities
Contemporary Worship, Saturday at 5:30 pm
Traditional Worship, Sunday at 10:00 am
Holy Communion is celebrated weekly at both worship services.


Christian Education
Grace Place (for children 3 years of age thru 5th grade) each Saturday at 5:00 pm (September thru May)
Adult Bible Study every Sunday at 11:00 am
Beer & Bible Study 7:00 pm monthly at a local restaurant

Church Office Hours
Tuesday - Friday: 10:00 am to 2:00 pm
Our office is staffed by volunteers, so please call first to confirm that someone is here.



*ACTIVITIES CALENDAR*

STEWARDSHIP WEEKEND
November 18 & 19

VISION COMMITTEE
November 28, 7:00 pm

BEER & BIBLE STUDY
November 29, 7:00 pm
Grotto Pizza, Edwardsville

COAT CLOSET DISTRIBUTION
December 1 & 2, 9 am - 12 pm

PRAYER GROUP
December 2, 9:30 am

POTLUCK & CHRISTMAS BINGO
December 2, 6:30 pm after worship

COUNCIL MEETING
December 13, 7:00 pm

CHILDREN'S CHRISTMAS PROGRAM
December 17, 11:00 am after worship
Gather for a potluck brunch afterwards

GROTTO PIZZA FUNDRAISER
December 18, Edwardsville location

CHRISTMAS EVE WORSHIP
December 24, 2:00 pm & 10:30 pm

Vist our Facebook page for event details!



---


** OTHER NEWS**

VISIT OUR LITTLE FREE LIBRARY!
Take a book or leave a book!
Located next to the front sidewalk

COATS WANTED - ALL SIZES/ALL SEASONS!
Donations are always accepted for our Have Two Coat Closet.

TRINITY TEXTS
If you'd like to receive a weekly faith-related text message, call or email the church office with your cell phone number.


---
Directions
Holy Trinity is located on Wyoming Avenue (Rte. 11) between Church and Bennett streets in Kingston, Pennsylvania.
Our parking lot is accessible from either Wyoming Avenue or Bennett Street.
Top of Page
Holy Trinity Lutheran Church, 813 Wyoming Avenue, Kingston, PA 18704